Located in a 19th century industrial building of 2, 200 m2, Lafayette Anticipations is a place for creation, innovation and research. The renovation project is led by architect Rem Koolhaas and his firm, OMA.
The seven story industrial building, characteristic of the end of the 19th century, is structured in a U-shape around a courtyard. The building can be crossed freely, thus leading to the rue Sainte-Croix-de-la-Bretonnerie via a covered passage. The architectural intervention manages to articulate two seemingly contradictory conditions: the desire for programmatic flexibility and the respect of strict and mandatory preservation rules. The building is the laureate of the "prix spécial du jury de l'Equerre d'argent 2018".
A Curatorial Machine
An "exhibition tower" equipped with four mobile platforms is inserted into the building's courtyard. These motorized platforms can move independently along rails and align with the existing floors.
With each exhibit, these innovative platforms will allow the space to be reconfigured in 49 different ways. These multiple arrangements will instil verticality, flexibility and adaptability, as required by numerous current and future projects. The building will offer 875 m2 of exhibition space. This curatorial machine completes another fundamental component of the Fondation: its production workshop situated in the building's basement. Here, pieces can be conceived and created by guest artists. The simultaneous use of these two structural features will foster the creation of unique projects, with their own spatial configuration.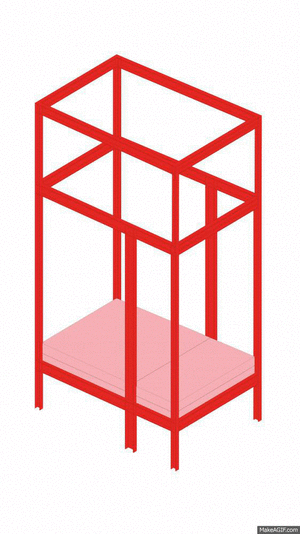 Key Figures
2, 200 m2: surface area
875 m2: exhibition surface area
350 m2: production workshop
19 m: height of exhibition tower
50 m2: large mobile floor
25 m2: small mobile floor
49 different floor configurations
19th Century Heritage
Built for François-Xavier Ruel's BHV in 1891 by architect Samuel Mejot de Dammartin, the 9 rue du Plâtre is an industrial building with an elegant façade. First used as a warehouse, it went on to serve as a reparation shop for straw hats (a BHV specialty), then as a dispensary, a girls' school and, more recently, as a higher-education preparatory school.
Rem Koolhaas
Rem Koolhaas (Rotterdam, 1944) founded OMA in 1975 together with Elia and Zoe Zenghelis and Madelon Vriesendorp. He graduated from the Architectural Association in London and in 1978 published Delirious New York: A Retroactive Manifesto for Manhattan. In 1995, his book S,M,L,XL summarized the work of OMA in "a novel about architecture".
Rem Koolhaas co-heads the work of both OMA and AMO, the research branch of OMA, operating in areas beyond the realm of architecture. His built work includes the Qatar National Library and the Qatar Foundation Headquarters (2018), Fondation d'entreprise Galeries Lafayette in Paris (2018), Fondazione Prada in Milan (2015/2018), Garage Museum of Contemporary Art in Moscow (2015), the headquarters for China Central Television (CCTV) in Beijing (2012), Casa da Musica in Porto (2005), Seattle Central Library (2004), and the Netherlands Embassy in Berlin (2003). Current projects include the Taipei Performing Arts Centre, a new building for Axel Springer in Berlin, and the Factory in Manchester. Koolhaas directed the 2014 Venice Architecture Biennale, is a professor at Harvard University, and is preparing a major exhibition for the Guggenheim museum to open in 2020 entitled Countryside: Future of the World.
OMA's completed projects include Rijnstraat 8 (2017); Il Fondaco dei Tedeschi (2016); the Faena District in Miami (2016); Pierre Lassonde Pavilion, a new building for the Musée national des beaux-arts du Québec (2016); Timmerhuis, new home for Rotterdam's municipal offices (2015); the new headquarters for China Central Television (CCTV) in Beijing (2012); the Casa da Musica in Porto (2005); the Seattle Central Library (2004) and the urban infrastructure Euralille in Lille (1994). OMA has built numerous cultural institutions, including recently: the Fondazione Prada in Milan (2015) and the Garage Museum of Contemporary Art in Moscow (2015). Rem Koolhaas explored the notion of spatial modularity in the Dee and Charles Wyly Theater in Dallas (2009) and in the Maison à Bordeaux (1998). In France, OMA recently constructed the Bibliothèque Alexis de Tocqueville (2017) and the new CentraleSupelec campus in Saclay (2017). OMA will soon deliver the Simone Veil bridge in Bordeaux, the Parc des Expositions in Toulouse, the Taipei Performing Arts Centre in Taiwan, the Danish Architecture Centre in Copenhagen, Denmark, the Qatar National library in Doha and a new building for the Axel Springer publishing house in Berlin.
Since 1998, the think tank AMO has applied architectural theory to other disciplines such as politics, publishing, media, fashion and sociology. Research projects conducted by AMO include The Image of Europe on the future of Europe and its representation in symbols and visual language, commissioned by the European Union in 2004; Roadmap 2050, a masterplan to set up a renewable energy network within Europe and Cronocaos, an investigation into the preservation of heritage which was exhibited at the Venice Biennale in 2010. Recently, AMO has completed the new display system for the Stedelijk Museum's permanent collection in Amsterdam, making use of innovative steel walls that generate a non-linear path through the exhibition space and create unique connections between art and design works. AMO is also leading the research project Countryside: Future of the World, an exploration of radical changes in the countryside conducted in collaboration with the Guggenheim Museum. Furthermore, AMO designs scenographies for the fashion shows of Prada and Miu Miu.
A 3-year construction project
Bas Princen
Photographic commission
Lafayette Anticipations entrusted Bas Princen with the mission of photographing the building at the various stages of its renovation.
Mutant Stage

Throughout its renovation, the 9 rue du Plâtre building was the object of an investigation into its own mutation.
A conjonction of know-how
Credits and Acknowledgements
Lafayette Anticipations – Fondation d'entreprise Galeries Lafayette
– Guillaume Houzé, François Quintin, Laurence Perrillat
Citynove Asset Management, on behalf of the Galeries Lafayette S.A.:
– Éric Costa, Romain Labbé
Assistant Contractor: Comitis Ingénierie
– Christophe de Dompsure, Vianney de Roeck
Associate Contractor: Artelia
– Wandrille Boivin, Sophie Ger velik
Steering: Elite
– Paula Candeias, Mokhtar Allache
SPS Coordinator: Corégi
– Jean-Luc Bétard
Supervising office: Bureau Veritas
– Laetitia Atlan, Gérard Klyss, Metotche Favi
Commissioned Architect: OMA
Partners: Rem Koolhaas et Ellen van Loon
Conception: Maria Finders, Alice Grégoire, Ippolito Pestellini Laparelli, Barbara Materia, Francesco Moncada, Pietro Pagliaro, Alejo Paillard et Clément Périssé
Project development: Thiago Almeida, Adrian Auth, Paul Cournet, Maria Finders, Alice Grégoire, Sebastian Janusz, Kenny Kim, Sofia Koutsenko, Lina Kwon, Veselin Lozanov, Barbara Materia, Alejo Paillard, Clément Périssé, Frane Stančić, Magdalena Stanescu et Yushang Zhang
Construction site, building construction: Alejo Paillard et Clément Périssé
Local Architect: DATA Architectes - Colin Reynier, Léonard Lassagne, Édouard Guyard
Patrimonial Project manager: Thierry Glachant
Engineering consultants:
dUCKS scéno (scenography)
BET Louis Choulet (SSI coordination )
Bureau Michel Forgue (building economics)
Eckersley O'Callaghan (engineering consultants)
Lamoureux acoustics (acoustics)
Companies:
Altor (elevating devices)
Balas (sealing)
Burgeap (geothermal installation)
Cotrasol (geothermal installation)
Eiffage Charpente métallique (steel frame, curtain wall system – glass ceiling)
Eiffage Énergie Électricité (high and low voltage)
Eiffage Énergie Thermie (plumbing, sanitation, heating, ventilation, climatisation)
Europarquet (wood floors)
France-Sols (hardwood floor coating, floor resin)
Genier-Deforge (dredging)
LBC (demolition, structural system, foundation, screed)
Ledran (interior wood carpentry)
Lindner (technical platform)
MAARS (modular panels)
Paul Champs (furniture arrangement)
Pradeau Morin (rendering)
PSR (painting)
Roussière (zinc covering)
Sarmates (exterior steel carpentry, interior metal carpentry, locksmithing)
Sertac (walls, doubling, fake ceilings)
Staffissimo (acoustic ceiling)
També (mobile platforms)
Signage: Guillaume Parent, Caty Olive and Frédéric Lemercier (Zélé agency)
The Fondation d'entreprise team thanks the City of Paris and its teams: Mayor Anne Hidalgo, as well as Christophe Girard, Jean-Louis Missika, Michèle Zaoui, Bruno Julliard and Ariel Weil.
Thanks also to:
the urban planning department: Bruno Lambert, Christophe Lecq;
the DRAC and the architects from Bâtiments de France: Serge Brentrup, Sophie Hyafil;
the local council of the 4th arrondissement: Sarah Alby, Damien Chanal;
the police prefecture, security architect: Sophie Carton, Anne-Monique Latimier ; and the local residents.
We also wish to thank our board of directors, who have supported the project since it started in 2013:
Ginette Moulin, Philippe Houzé, Éric Costa, Ugo Supino, Nicolas Houzé, Arthur Lemoine, Chris Dercon, Lidewij Edelkoort, Martin Hatebur, Laurent Le Bon.
For their help at every stage of the project, the Fondation d'entreprise would like to thank the following collaborators within the Galeries Lafayette Group:
Valérie Aigreault-Turcas, Augustin Belloy, Gwendoline Bérard Bergery, Cécile Berry, Caroline Billard, Daniel Bloch, Florence Brachet-Champsaur, Stéphanie Bros, Philippe Castaignet, Elisabeth Cazorla, Lydia Chagkajifanian, Frédérique Chemaly, Laetitia Ciesielski, Céline Collorec, Maëlle Conan, Tom Cuellar, Nassime Daine, Marie-Christine D'Alberto, Clémentine Debaere, Charlotte Dieutre, Dédizia Dodokal, Oussama Doudouh, Camille Fimbel, Sophie Guélot, Anne Guillou, David Herrenschmidt, Alexis Jakubowicz, Elsa Janssen, Patricia Joris, Marie-Christine Kayser, Soly Lacascade, Jennifer Laplace, Cécile Larrigaldie, Océane Le Corre-Féral, Christine Le Flecher, Muriel Le Goff, Carine Le Ruyet, Florence Leloup, Alexandre Liot, Caroline Martinet, Brigitte Masson, Georgia Metier, Alix Morabito, Perrine Muzumdar, Marine Patenôtre, Sébastien Péjus, Damien Pellé, Danielle Picard, Dominique Piérart, Marie-Hélène Plainfossé, Annie Plançon, Alain Quesneau, Élodie Raudin, Agnès Renard, Nina Renard, Bertrand Rinaldi, Francesca Sabatini, Laurence Sanchez, Catherine Sebban, Marie Ségura, Étienne Tabarot, Laura Taliercio, Valérie Teboul, Charlotte Terpan, Emmanuelle Topa, Pauline Toulouzou, Christine Tran, Marie-Christine Tribolet, Alexandra van Weddingen, Raynald Vaudel, Thierry Vidal, Angeline Vincent, Roland Winterhalter.
We also extend our thanks to those who supported the preparatory stages of the project, especially:
Mustapha Bouhayati, Nicolas Dahan, Maria Finders, François Guiguet (Aubry & Guiguet Programmation).
The Fondation d'entreprise would also like to thank:
Rudy Belhassen, Nassim Belqadhi, Sébastien Bourseaud, Amélie Chasseriaux, l'agence Ciguë (Hugo Haas and Laurent Boutin-Neveu), Michael Dimitriou, Clément Dréano, Daniel Duché de l'Atelier Blanc-Duché, Youssef Faarelah, Lucas Goy, Jérôme Guillerm, Pierre Jaubert de Beaujeu, Bennaceur Kadra, Emma Lavergne, Kevin Manoka, Hicham Moussalli, Abdelmajid Naoui, Hervé Sawko, Emmanuelle Sawko and Grégory Khellouf (Wild & the Moon), Bruno Soudan, Ahmed Touzani, Philip Wilson, Mohamed Ali Ziraoui.
Finally, we offer our warmest thanks to Ginette Moulin, Philippe Houzé and Nicolas Houzé for their support and their kind attention since the dawn of the project.