Closer Music - Day 3
Sunday 27 Jan 2019 from 5pm to 8:30pm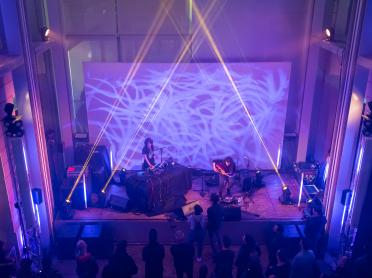 Pan Daijing + Lucy Railton + Jessica Sligter
6pm: Jessica Sligter (Norway)
Jessica Sligter is a complex artist who navigates between lyrical and baroque influences, and experimental synth. Her crooner vocals bring an almost folk feel to her productions, and set her apart from the rest of "intelligent dance music".

7.20pm: Lucy Railton (Great Britain)
Cellist Lucy Railton released her debut album, "Paradise 94", on Modern Love in 2018. Emerging from a long-term engagement with contemporary music, her recent work exists between modern instrumentalism, hard edged electronic composition and expressive musique concrète. Railton trained at the Royal Academy of Music in London where she is currently a guest lecturer. Her expansive and variegated interests have led to countless collaborations and international appearances, most recently with inventor and electronic music pioneer Peter Zinovieff, pianist Kit Downes, producer Beatrice Dillon, and composer Kali Malone. Alongside these collaborations, Railton regularly performs works by composers such as Alvin Lucier, Iannis Xenakis, Morton Feldman, and Pauline Oliveros.

8.15pm: Pan Daijing (China)
Fist Piece
Chinese-born and Berlin-based, Pan Daijing tears down barriers with her explorations of new territory on the fringes of noise, industrial and dance. Unconvinced by the album as a format for her work, her live performances push physical and visual limits to the extreme. Her aptly-named First Piece live set, which she recently premiered at the Berlin Atonal festival, is a bottomless box filled with dance, soprano voices, sounds and images. The result is unique in its genre.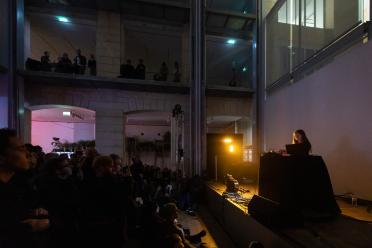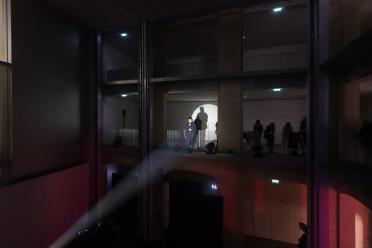 Jessica Sligter is a Dutch and naturalized Norwegian singer and songwriter.
Playing with her vocal abilities, she mixes with her pop register various influences and musical eras.
Violoncelliste britannique, Lucy Railton est également performeuse et co-fondatrice du London Contemporary Music Festival. Son album Paradise 94, sorti en 2018, démontre l'ampleur de son univers musical déroutant.
Héritière du Groupe de Recherches Musicales (GRM) créé par Pierre Schaeffer en 1958, sa musique expérimentale aux sonorités électro-acoustiques, s'inspire du travail de Beatriz Ferreyra, Bernard Parmegiani, Iannis Xenakis, Guy Reibel et François Bayle. Comme ses prédécesseurs, Lucy Railton explore et repousse toujours plus loin les limites de la normalité.
Pan Daijing est une performeuse et productrice chinoise établie à Berlin. Sa musique, étrange et poétique, est faite d'improvisations et d'expériences personnelles.
En 2016 l'artiste publie son premier EP sur Noisekölln Tapes, suivi d'un second EP intitulé A Satin Sight sur le label Bedouin Records. A la fois brutales et fragiles, ses productions sont plongées dans l'ambiance sombre d'atmosphères cinématographiques. L'artiste utilise sa voix et le potentiel de machines de façon inédite. Ses performances mêlent éclats sonores, mouvements, installations et narrations (Llack, 2017, Tissues I, 2018), traduisant le combat incessant entre les contradictions de l'existence auquel se livre Pan Daijing.
The lafayetteanticipations.com website uses cookies for audience measurement purposes.
By continuing your navigation on this site, you accept their use.