Untitled (The Original Step)
Materials:
Stones, Painted lumber
Collection:
Lafayette anticipations - Fonds de dotation Famille Moulin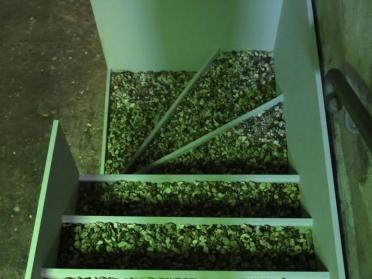 Gabriel Sierra's works are based on the idea that forms and materials constitute an architectural language and that they can therefore be considered as systems for value transmission. The artist intervened directly in the spatial language of the foundation's building prior to its renovation by replacing some of the windows and skylights with sheets of glass made from melted Perrier bottles: they alter not only the light, but also the atmosphere of the rooms in which they are located. In turn, the steps of a staircase that connects two levels have been modified. Their surface has been changed so that the experience of walking on them is renewed. Untitled (The Original Step) also reflects a particular context of the residency in which the artists were invited to read the space they knew would soon be reconfigured. The beauty of this work made in situ lies in its shortened life span: conceived for a now-destroyed part of the Foundation's building, it is its mould and its memory.

Work created for the exhibition Venir Voir Venir at the Fondation Galeries Lafayette in 2014.
Exhibition
Venir Voir Venir
Lafayette Anticipations - Fondation d'entreprise Galeries Lafayette, Paris (France)
from 03 Jul to 06 Jul 2014