Mercedes Dassy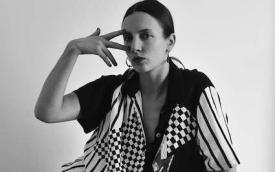 Mercedes Dassy is a dancer and choreographer, active in the fields of dance, theatre, performance and video.
In 2009, she joined S.E.A.D. Salzburg Experimental Academy of Dance and attended a Summer Program at the Tisch School of Art/Dance Department - New York University. Back in Brussels since 2012, she works with Voetvolk/Lisbeth Gruwez (AH/HA), Compagnie3637 (Eldorado, L'enfant qui), Collectif En Transit, Matej Kejzar (raive), Cie PHOS/PHOR (La compatibilité du chameleon), Lucile Charnier (L'Appel du Mutant), MUGWUMP, Notch company/Oriane Varak (As a Mother of Fact) and Leslie Mannès, Thomas Turine and Vincent Lemaître (FORCES).
Since 2014, Mercedes Dassy has also begun her own work with PAUSE, a solo created for the Museum Night Fever 2014. She then created i - c l i t , presented at La Balsamine as part of the festival Brussels, dance ! 2018, and nominated for the Critics' Prize 2018; TWYXX, a collaboration with actor Tom Adjibi in 2019; and B4 summer, a solo presented in 2020 at Vooruit (Ghent), at the Théâtre de Liège for Pays de Danse, at La Balsamine (Brussels) and on MARS (Mons).
By dealing with subjects such as the ultra-sexed-connected new feminist wave, relational engagement in consumer society or the relationship of her generation to engagement, Mercedes Dassy's work unfolds on the basis of a choreographic, political and aesthetic triangulation.
In July 2018, Mercedes Dassy was awarded the Jo Dekmine prize for creations and artists promised by the Théâtre des Doms.
Exhibited at Lafayette Anticipations